a piece by Fabio Liberti and Emanuele Rosa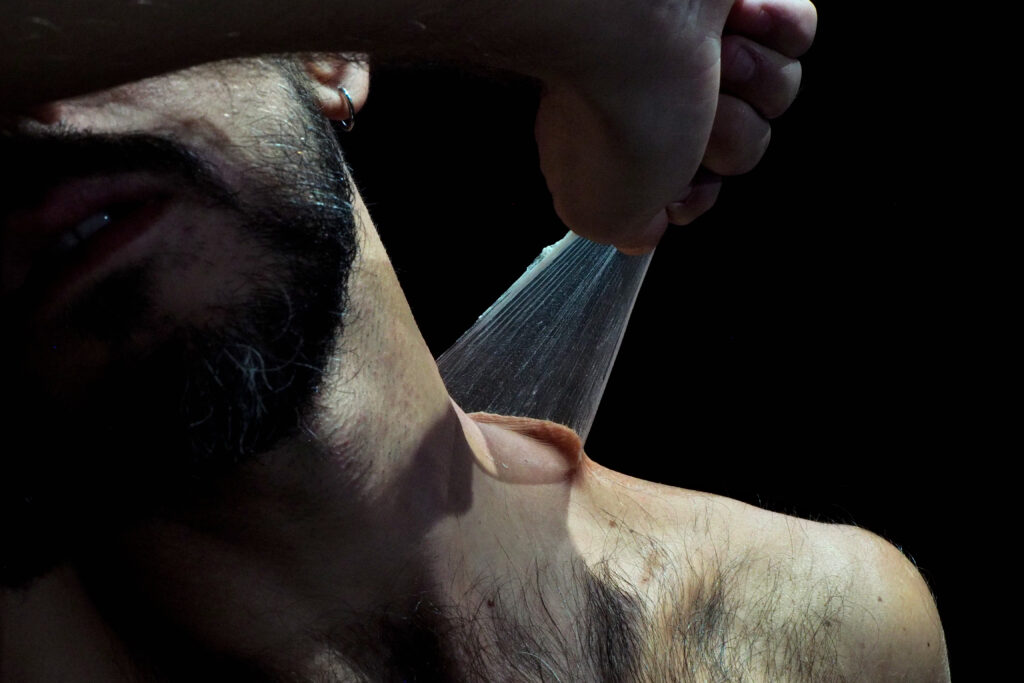 ★★★★★
"The team behind 'As If, I Have Missed Myself' has created a solid performance with a magnificent artistic expression. (…) With intensity and great presence, it embodies all the crooked angles and abstractions that a human being can experience in a state of split perception. Bravo for that. "
Kulturnyt.net
An exploration through movement, video art and sound of the fragments of our identity
The piece arises from an out-of-body experience, which triggered choreographers Fabio Liberti and Emanuele Rosa to question the notion of personal identity.
With this detached perspective of oneself, one encounters the fragmentation in the coherence of Being.
Can such fractured parts coexist and function as a unity? Can we think of them as one? Would we like to?
In their encounters – as well as missed encounters – the performers shape a space for reflection and present a time where past, present and future intertwine.
As if, I have missed myself represents the first project that combines the choreographic practice of Fabio Liberti and Emanuele Rosa, both authors and performers of the piece. The collaboration was born out of an intense exchange of ideas and instinctive artistic connection and the project has been developed during three residency periods – two in Denmark, at Performing Arts Platform and at Bora Bora in Aarhus, and one at Teatro del Lemming in Italy.
A Bora Bora & MUOVI co-production
PERFORMERS and CHOREOGRAPHERS: Emanuele Rosa and Fabio Liberti
LIGHT and VIDEO DESIGNER: Christoffer Brekne
SET and COSTUME DESIGNER: KasperSophie
DRAMATURG: Sara Zivkovic Kranjc
MUSIC: Per-Henrik Mäenpää
ASSISTANT CHOREOGRAPHER: Jernej Bizjak
TECHNICIAN: Ise Kjems Klysner
PRODUCTION MANAGER: Kathrine Kihm
SET CONTRUCTION: Jeppe Cohrt
PRODUCER: Carlos Calvo
PHOTOGRAPHER: Lukas Hartvig-Moeller
Produced by Bora Bora Dans & Visuelt Teater and MUOVI
Supported by Danish Arts Foundation
Thanks to Performing Arts Platform (DK), Teatro del Lemming (IT) and Signe Klejs